Set off as a family to discover an extraordinary underground landscape with its immense rooms, spectacular concretions dating back several million years and incredible prehistoric remains.
During this trip meet Cro-Magnon who, 16 years ago, decorated the cave, using various techniques, as astonishing as they are rare, such as painting, engraving or modeling on clay. He even left the imprint of his hand.
The essential
to know
Parking
​​Spoken Languages: English Spanish
---
Visit
A remarkable cave
Listed as a Historic Monument in 1929, the Bédeilhac cave is remarkable.
Remarkable for its extraordinary underground landscape with huge rooms and spectacular concretions dating back millions of years.
Remarkable also because it allows you to meet the men and women of Cro-Magnon who, 16 years ago, decorated the cave, using various techniques: painting, drawing, engraving, modeling on clay ... and even imprint hand.
Finally, remarkable because it served as an industrial site during the 1940-1945 War.
During your visit, the vast galleries, their volume and the subterranean landscape combine large columns and imposing concretions, impress both young and old.
Depending on the lighting, the visit reveals the patient work of water: mysterious shapes appear to glances plunged into darkness and allow everyone to give free rein to their imagination in front of the extraordinary sculptures of nature.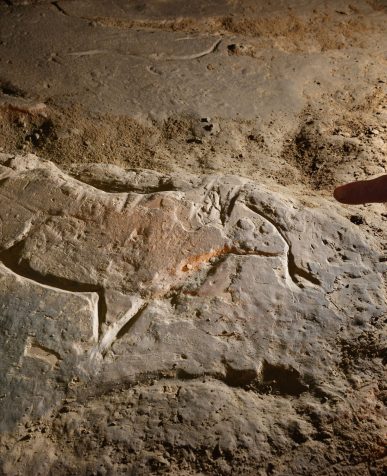 But to sum up the Bédeilhac cave to its geology alone would be reductive. Like the caves of Mas-d'Azil or Niaux, the cave is a large one from Prehistory. Here too, our ancestors lived, painted, decorated, engraved and even modeled clay, a technique that was absolutely rare at the time. The visit recounts their life, their still enigmatic works for a first encounter with prehistory, intended for all audiences.
Finally and more recently, the Bédeilhac cave is also known as an industrial site. At the start of World War II, Emile Dewoitine, an aircraft manufacturer in Toulouse, had the idea of ​​setting up his assembly plants at the entrance of a cave. He set his sights on the Bédeilhac cave and after many hazards, it was used for storage and repair of devices.
---
a restaurant nearby
Where to eat at the Bédeilhac cave?
Complete your day with a visit to the Prehistory Park and take the opportunity to have lunch in its restaurant! Near the cave, the restaurant at the Parc de la Préhistoire offers you a friendly setting and a panoramic view of its lakes and waterfalls.
In accordance with the gastronomic traditions of Ariège, we favor local cuisine with quality products in short circuits and offer you a wide choice of menus from 14 to 26 €.
---
---
---
Infos
billetterie
Booking is recommended
Online ticket office accessible 24 hours a day
Prices
| | |
| --- | --- |
| Adult | 9€ |
| Child (5 to 17 years old) | 5,50€ |
| Student (under 26) | 6,90€ |
| Family pass (2 adults + 2 children) | 24€ |
Opening
From Saturday February 13 to Sunday October 31
Monday
Open from 11h to 17h
Tuesday
Open from 11h to 17h
Wednesday
Open from 11h to 17h
Thursday
Open from 11h to 17h
Friday
Open from 11h to 17h
Saturday
Open from 11h to 17h
Sunday
Open from 11h to 17h
Winter closure: the Grotte de Bédeilhac is closed from November 2, 2020 to February 13, 2021.
Login
Closed
BÉDEILHAC CAVE
09400 BEDEILHAC AND AYNAT

Phone : +33 (0)5 61 05 10 10
Calculate my route
By car : from Toulouse take the A61 motorway towards Montpellier. Then take the direction Foix by the A66 motorway. Go past Foix on the RN 20, exit at Tarascon-sur-Ariège. Take the D618 towards Saurat, Massat, Col de Port. The cave is located in the town of Bédeilhac and Aynat.
more info
Preferential rates
Are there reduced rates at the Grotte de Bédeilhac?
Our Packs
Discover our different packs and visit our sites at reduced prices!
Families
The Family Pass entitles you to 2 adult tickets + 2 child tickets at only € 24 (additional child: + € 3,60).
Kids
Children under 5 are free, from 5 to 17 years old a reduced rate of € 5,50.
students
Students under 26 benefit from a reduced rate of € 6,90.
Disabled visitor
Anyone with a disability who has a disability card benefits from a 15% discount applicable on the basic rate. Please note that access to the cave is difficult, see section Affortability.
Visit
How long does the visit to the Bédeilhac Cave last? What do you need to know before coming?
The visit of the cave is guided and lasts approximately 1h30, the conservation rules are strict there in order to preserve the premises, which is why walking sticks, backpacks, canes, strollers, and taking photos are prohibited.
Walking or sports shoes and warm clothes are essential during your visit, the temperature inside the cave being 12 ° C all year round.
Please note, you must arrive 15 minutes before the start of the visit. Any delay will result in the permanent loss of your seats. Under no circumstances can we be held responsible for any delay related to traffic conditions. Find out about the traffic situation before coming (accident, roadworks, traffic jams, etc.)
Affortability
Is the Grotte de Bédeilhac accessible to people with motor disabilities or reduced mobility?
The cave is poorly landscaped, the route (1,5km in total) is hilly, which is why the visit is inaccessible to people with motor disabilities, strongly discouraged for children under 5 and people with locomotion difficulties.
Parking
Where to park at the Grotte de Bédeilhac?
Free parking is available on site, it is accessible to motorhomes during visiting hours.
Pets
Are animals allowed at the Grotte de Bédeilhac?
Animals are not allowed inside the site, even on a leash.
Shop
Can we buy souvenirs at the Grotte de Bédeilhac?
A shop is present and open after each guided tour.
---
Give
your opinion
---