The Mas-d'Azil cave, a geological curiosity and a giant of Prehistory! Let yourself be carried away by the magic of the place ... The immensity of its cavities, the modern lighting and the prehistoric remains that it conceals are all marvels that we invite you to discover.
Visit
Your group visit will take place in 2 stages: the free visit of the Interpretation Center and the guided tour of the cave.
the interpretation center & the cave
Before entering the cave, the interpretation center offers you a fun, interactive and digital route that will allow you to prepare for the visit by showing you the life of the first men who frequented it. Several themes are discussed: geology, paleontology and prehistory through the proven presence of Aurignacian, Magdalenian and Azilian cultures.
The cave was an important prehistoric settlement, his visit will help you discover the places of life and activity of prehistoric men and, more importantly, you will see where were found numerous decorated objects, including the famous "Fawn bird ", which are still today the world famous Mas d'Azil.
the museum of prehistory
Located in the village, 1km from the cave, the museum will show you the know-how of our ancestors through the objects found, evidence of great technical and artistic prowess.
practical information
Duration of the guided tour: 1h45
Price: 7,10 € / person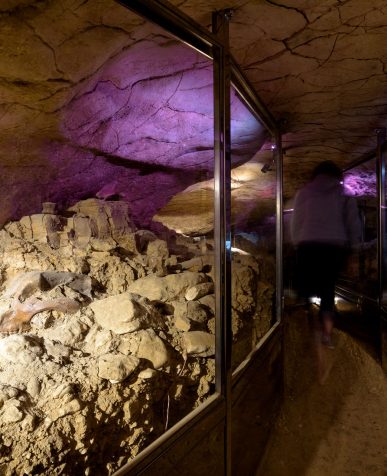 ---
Booking
how to book?
Contact the reservation department on 05 61 05 50 40.
Patricia and Geraldine will advise you and organize, with you, your tailor-made outing.
---
Resources
To download
---