Travel back in time to the heart of the daily life of the Cro-Magnons… Walk in the footsteps of prehistoric men, for a day!
Over the animation workshops, you will learn to hunt, to carve flint, to light the fire like 16000 years ago, dig like an archaeologist or again paint on the walls of a cave larger than life!
The Grand Atelier, a 2500 m² museum space, will introduce you to the art of prehistory through films, objects and life-size replicas such as the reproduction of the Salon Noir of the Niaux cave, the "Niaux interdict" and from the cave of Marsoulas.
Plan 3 to 4 hours of visit to fully enjoy!
schedule
From Monday September 04 to Sunday October 22
Monday
Open from 10 a.m. to 18 p.m.
Tuesday
Open from 10 a.m. to 18 p.m.
Wednesday
Closed
Thursday
Open from 10 a.m. to 18 p.m.
Friday
Open from 10 a.m. to 18 p.m.
SATURDAY
Open from 10 a.m. to 18 p.m.
Sunday
Open from 10 a.m. to 18 p.m.
From Monday 23 October to Sunday 05 November
Monday
Open from 10 a.m. to 18 p.m.
Tuesday
Open from 10 a.m. to 18 p.m.
Wednesday
Open from 10 a.m. to 18 p.m.
Thursday
Open from 10 a.m. to 18 p.m.
Friday
Open from 10 a.m. to 18 p.m.
SATURDAY
Open from 10 a.m. to 18 p.m.
Sunday
Open from 10 a.m. to 18 p.m.
> Pets are not allowed: we provide you with a kennel during your visit.
---
Visit
a fun and immersive park
Relive the actions of prehistoric men through workshops led by our mediators specializing in the prehistoric era.
The prehistoric camp
In a camp reconstituted according to precise archaeological data, made of wood and skins, you will evolve within the habitat of a prehistoric tribe.
Animated by our mediators in prehistoric attire, you will discover the essential activities of the time: cutting flint, making tools or making a fire.
The size of the stone reveals the gestures that lead from the material to the tool and will allow you to discover their use: cutting, scratching skins, drilling, grooving, working the bone or antlers ... Similarly, it it is magical to witness the birth of a fire. We can then imagine the role and importance of this element, source of light and heat, in prehistoric societies.
Depending on the seasons and your discussions with our prehistoric people, you will also learn there what makes the daily life of Cro-Magnons more widely: how we eat, how we spend our days, how we make clothes, how we make clothes. adornments and so much more!
The bison cave
In a reconstructed cave, put yourself in the shoes of the first artists in history. By the light of grease lamps, rediscover the sensations of our ancestors who went underground to paint, engrave and model.
Even if the art of Prehistory does not reveal the key to all its mysteries, it is fascinating to paint in a cave, drawing inspiration from volumes and colors. For that, you will use the same materials as our ancestors, natural pigments (ochres, iron oxides…) and the same tools (brushes, sticks, skin pads… even his fingers!).
The hunting workshop
Hunting holds a preponderant place in the life of prehistoric men even if they also practice fishing, gathering and collecting (shellfish, etc.). In the Magdalenian, reindeer and ibex are the main game even if the Cro-Magnons do not neglect birds and hares.
Thanks to this participatory workshop, you will discover the emblematic weapon of this period, the spear and its propellant, and you will try your hand at handling it… not so easy as it seems!
Once the weapon is tamed, you will set off, escorted by our ancestors, on a hunting course where you will practice on 3D targets.
The archeology workshop
By carrying out an investigation, like real archaeologists, your objective will be to date the prehistoric open-air site of the Prehistoric Park.
In the scientific laboratory next to the excavation site, you will study flint, bones, hearths or pollens… A real initiation into the various disciplines of archeology awaits you.
Immerse yourself in the heart of Prehistory in a 13 hectare park equipped with thematic spaces accessible in complete autonomy, at your own pace.
The labyrinth of sounds
Autonomously, this large plant labyrinth will allow you to immerse yourself in the sound environment of prehistoric men: the sounds of nature (flowing water, wind in the leaves, cracking of branches, thunderstorm ...) mingle with the sounds of animals (buzzing of insects, song of birds, neighing, hooting of wolves, growling of bears, ibex fight…) in order to create a natural music, perhaps inspiring the first Magdalenian melodies.
Finally, an original musical creation will complete your experience by offering a reconstruction of what could be the music of the Cro-Magnon man: bone flutes, percussions on concretions, rhombs (primitive wind instrument) ... unite their melodies for a auditory journey 16000 years ago!
A superb natural setting
The Prehistory Park is also a superb place to visit, in the heart of the Pyrenees. Nestled in the heart of a mountainous circus, with a tour circuit on a 13 hectare park, it is dotted with water basins, rivers, a large waterfall, woods and even reconstructed caves and gours.
---
museum space: the large workshop
The museum tour of the "Grand Atelier", a real interpretation center, deals with cave art, its themes and techniques.
Enter the dark lair (as if you were entering a cave) and find films, models and facsimiles of the Niaux and Marsoulas caves such as you have never seen them.
Take advantage of the comments of an audio guide (French, English, Spanish, Catalan, German, Dutch and suitable for adults or children) to discover, at your own pace, the prehistoric riches of France, the Pyrenees and the Ariège during the Paleolithic era superior.
Thanks to a fun, digital museography adapted to all, the art of the first men and their mysteries.
Combining emotions and knowledge, the great Workshop will reveal a real treasure to you.
Giants of the Ice Age
Woolly mammoth, steppe bison, mega-deer and cave lion are back! Installed in the heart of their natural environment, the strength and the presence of these prehistoric animals long since disappeared from the surface of the earth, are perfectly represented. All the senses are awakened ... even the smell! Your visit promises to be full of emotions in the face of its larger-than-life reproductions.
On a surface of 500 m², the space "The giants of the Ice Age" retraces in a very realistic way the environments in which the large prehistoric fauna lived during the Ice Age.
Hunted for their meat, their fur or their bones, admired, feared, sources of inspiration for the Cro Magnons or quite simply rubbed shoulders with relative indifference, these "Giants" allow you to get away, for a visit, to the place of our ancestors and discover the environment they encountered on a daily basis.
Which of you or of the Giants will be the stronger? A fun and lively space "the challenge of the giants" will allow you to complete your visit by competing against the giants.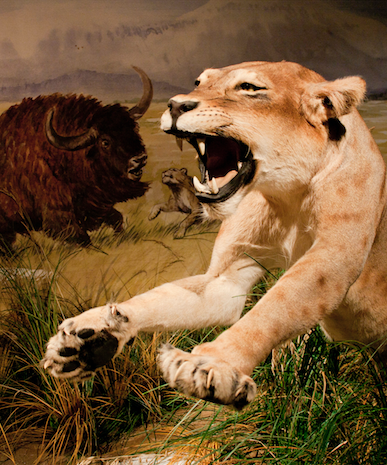 ---
Take a break at the park restaurant!
The restaurant offers you a friendly setting and a panoramic view of the lakes and waterfalls of the Park. In accordance with the gastronomic traditions of Ariège, we favor local cuisine with quality products in short circuits and offer you a wide choice of menus from 14 to 26 €.
The cuisine of the Chef and his team is mainly based on fresh products. Children of the country, they unearth the best surrounding producers: from magret from the Terroirs of Montégut Plantaurel to the sweet flavors of Sambuc, from Gascon cow from Steakeurs ariégeois to spices from Hypocras, the team lovingly selects the ingredients and pays homage to this region she loves so much.
Please note: our restaurant is accessible to everyone regardless of the visit to the park.
Book your table on 05 61 05 87 86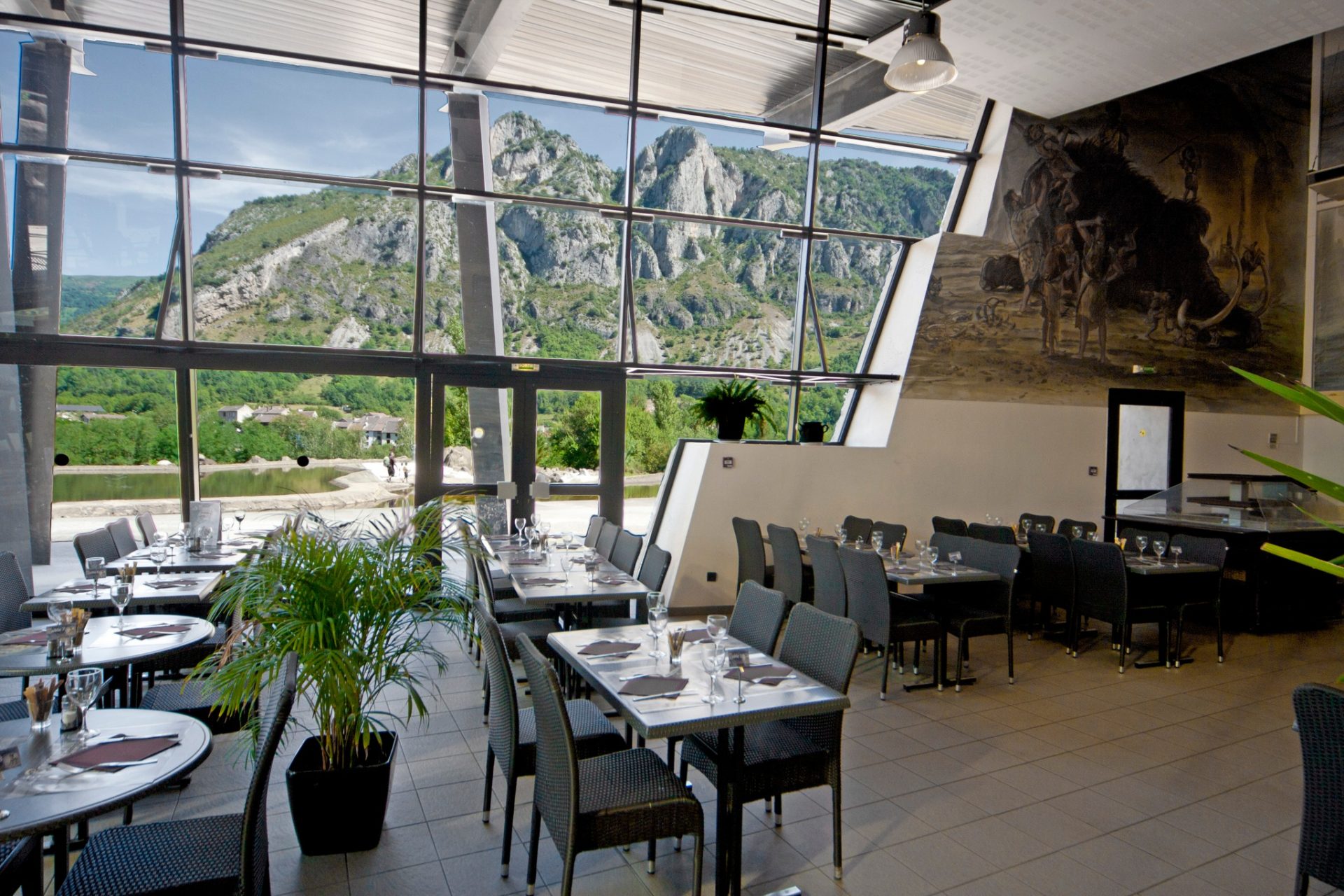 ---
On video
---
---
---
Information
billetterie
On-site ticket office open until 17 p.m. except in July and August until 17 p.m.
Payments accepted: cash / checks (on presentation of an identity document) / bank cards / holiday vouchers
Reservation is not necessary
Online ticket office accessible 24 hours a day
Reservations recommended for the Parc restaurant in summer
Pricing
| | |
| --- | --- |
| Adult | 11,50 € |
| Kids | 8 € |
| Student (For students under 26 years old.) | 9 € |
| Large family (Valid for 2 adults and 2 children.) | 36 € |
Opening
From Monday September 04 to Sunday October 22
Monday
Open from 10 a.m. to 18 p.m.
Tuesday
Open from 10 a.m. to 18 p.m.
Wednesday
Closed
Thursday
Open from 10 a.m. to 18 p.m.
Friday
Open from 10 a.m. to 18 p.m.
SATURDAY
Open from 10 a.m. to 18 p.m.
Sunday
Open from 10 a.m. to 18 p.m.
From Monday 23 October to Sunday 05 November
Monday
Open from 10 a.m. to 18 p.m.
Tuesday
Open from 10 a.m. to 18 p.m.
Wednesday
Open from 10 a.m. to 18 p.m.
Thursday
Open from 10 a.m. to 18 p.m.
Friday
Open from 10 a.m. to 18 p.m.
SATURDAY
Open from 10 a.m. to 18 p.m.
Sunday
Open from 10 a.m. to 18 p.m.
By car : from Toulouse take the A61 motorway towards Montpellier. Then take the direction Foix by the A66 motorway. Go past Foix on the RN 20, before Tarascon-sur-Ariège, take the Banat / Gourbit / Parc de la Préhistoire exit.
more info
Preferential rates
Are there reduced rates at the Prehistory Park?
Our Packs
Discover our different packs and visit our sites at reduced prices!
Families
The Family Pass entitles you to 2 adult tickets + 2 child tickets at only € 36 (additional child: + € 5,90).
Children
Children under 5 get free, those between 5 and 17 get a reduced rate of € 8.
students
Students under 26 benefit from a reduced rate of € 9.
Disabled visitor
Anyone with a disability who has a disability card benefits from a 20% discount applicable on the base rate. The companion of a person in a wheelchair is free. Please note that some areas of the Park are difficult to access, see section Accessibility.
Visit
How long does the visit to the Park last? What do you need to know before coming?
The visit takes place both indoors for the museum space but also outdoors for the participatory workshops (covered and functioning in all weathers). It takes about 4 hours for the complete visit.
Workshops and activities are offered only in French. Visiting aids in English, Spanish, Catalan and German will however be distributed to you at the entrance to the site.
The museum part and the 'Giants of the Ice Age' area are audio-guided. The audio guides are available in French, English, Spanish, Catalan, German and Dutch with a speech for adults and a speech more suitable for children.
Accessibility
Is the Park accessible to people with motor disabilities?
The museum area is fully accessible to all audiences and to people in wheelchairs. Access paths and activities are partially accessible by wheelchair or strollers.
Parking
Where to park in the Prehistory Park?
A large free car park is available on site, it is accessible to motorhomes during site opening hours. Places reserved for people with reduced mobility are available in front of the entrance.
Pets
Are animals allowed in the Prehistory Park?
Animals are not allowed inside the site, even on a leash. A kennel is available to you free of charge. The dogs will have an individual box and a bowl of water, but no care can be lavished on them. Please note that you must bring an identity document which will be requested at the entrance to the site.
Shop
Can we buy souvenirs at the Prehistory Park?
A shop is present and open at the same hours as the park on the site. You can access it without visiting, you just need to report to the ticket office.
Picnic and play areas
Does the park have picnic and play areas?
The park has a picnic area and a play area for park visitors only.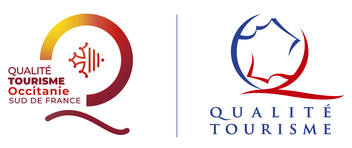 ---
Give
your opinion
---