Just 1 hour from Toulouse, the Parc de la Préhistoire offers you an easily accessible, calm, unusual setting and provides all the infrastructure suitable for your seminars and team building.
Services
services and equipment for tailor-made events
Seminars, general assemblies, meetings, study days, prestigious evenings or conferences… The Prehistory Park offers spaces dedicated to these working times or to be friendly with your teams.
With its large parking lot; its premises accessible to all and its restaurant highlighting Ariège producers, the site offers everything you need for a successful day.
The seminar space is equipped with:
an auditorium with a capacity of 120 seats. All the bleachers are retractable and, depending on your needs, completely free up floor space. It is equipped with a video projector, screen, sound system and Wifi.
a reception tent (100 seats / 300 standing)
a restaurant for lunch on site
A few steps from your meeting rooms, the restaurant at the Parc de la Préhistoire will welcome you in a friendly setting, offering you a panoramic view of the lakes and waterfalls.
In keeping with the gastronomic traditions of Ariège, the team favors local cuisine with quality products in short circuits. The cuisine of the Chef and his team is mainly based on fresh products. Children of the country, they unearth the best surrounding producers: from magret from the Terroirs of Montégut Plantaurel to the sweet flavors of Sambuc, from Gascon cow from Steakeurs ariégeois to spices from Hypocras, the team lovingly selects the ingredients and pays tribute to this region she loves so much.
Several formulas can be offered: pastries / coffee reception, breakfasts, buffets, plate service, prestigious meals ... The team adapts to your budget and your wishes for a tailor-made welcome.
---
During the day
team building
In addition to your working day, your meal or your site visits, the teams of the Parc de la Préhistoire and the Château de Foix offer half-day challenges to be taken up as a team.
Strengthen the bonds of your teams, stimulate and test the motivation of your employees in extraordinary places!
Prehistoric Park
Prehistoric team-building. Put your teams to the test of ancient times!
Around three challenges to overcome, they will have to hunt using the Cro Magnon method with thruster and spears, light a fire like the Magdalenians and finally make their tools out of flint.
For each of these challenges, they will be supported by our mediators specializing in the period.
On reservation
From € 18 per person (based on 20 people).
This half-day of activity is independent of the site visit which can be offered to you as a supplement.
Foix castle
Medieval rally at Château de Foix. Put your teams to the test of ancient times!
Your mission ? Find, solve and take up puzzles and challenges in teams, to discover the history of the castle. In order to put all the chances of victory on your side, the key words will be: observation, reflection, consultation, communication, cohesion and conviviality!
The game will take place in 2 quest areas (the museum and the castle). The teams will have to solve the puzzles, win the challenges, answer the questions of our medieval characters, complete and return a questionnaire, while respecting a schedule and a limited time.
Who will score the most points and be the winner? Suspense and fun guaranteed!
On reservation
From € 30 per person (based on 20 people).
This half-day of activity is independent of the site visit which can be offered to you as a supplement.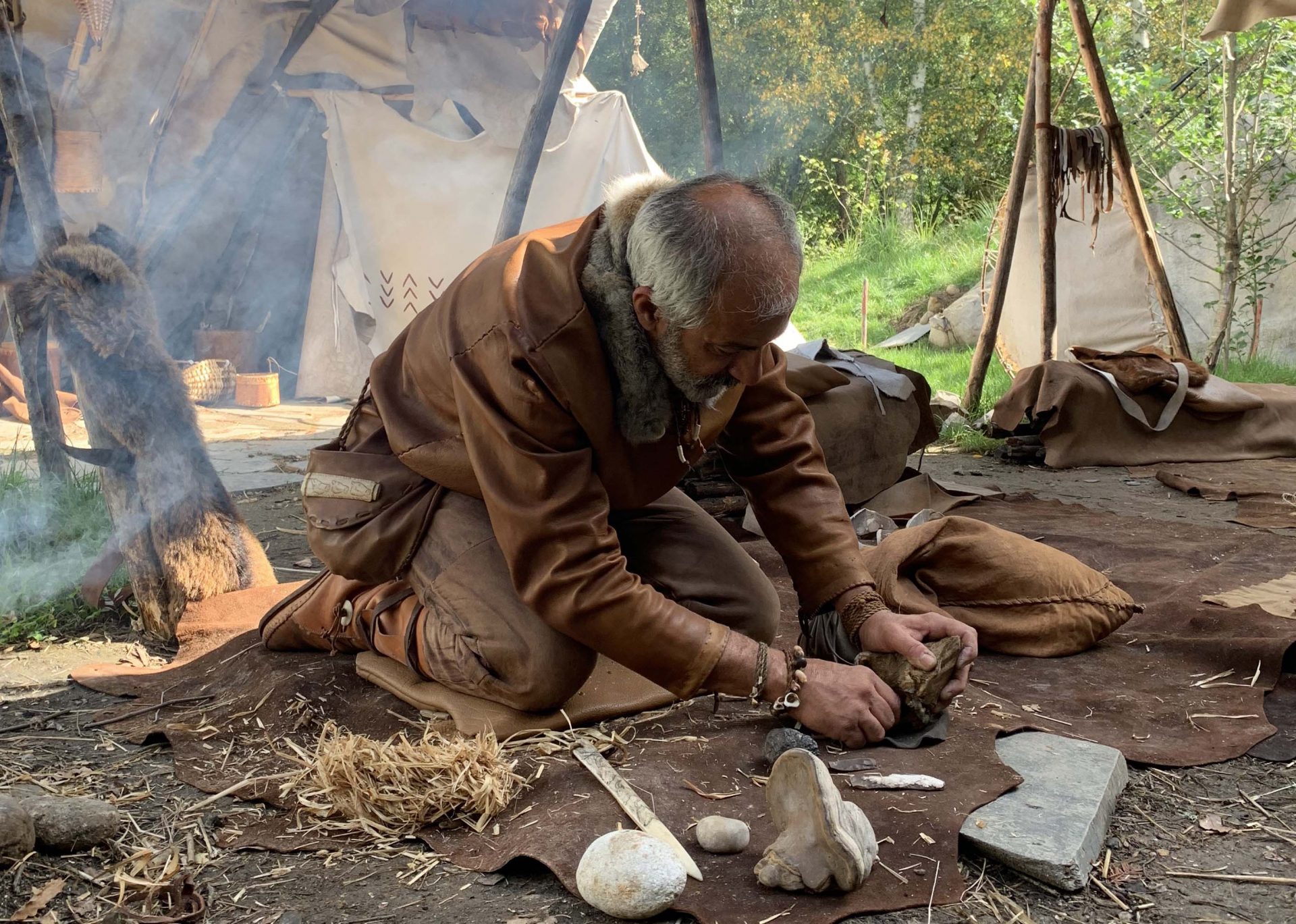 ---
In the evening
incentive cro'lanta
For an exceptional evening, take off your costume, your smartphone, your computer, put on leather and fur clothes and put yourself in the shoes of a Cro-magnon ...
Who has never dreamed of taking themselves for one of our distant ancestors?
On the program of this unusual evening, challenges to be taken up together. He will have to set up his camp and his tent made of leather and wood and prepare his bed of dry grass and reindeer skins.
You will also choose an activity to do together among those of your choice: make your flint tool, make the lamp to light you up at nightfall or create your prehistoric adornment.
Finally, after a hearty prehistoric meal, you will spend the night in the camp.
On reservation
From 120 € per person.
---
Booking
how to book?
Contact the reservation department on 05 61 05 50 40.
Patricia and Geraldine will advise you and organize your tailor-made day with you.
Or book online by clicking on the following button:
---
---